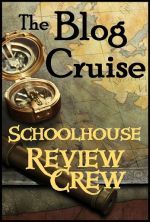 The latest Schoolhouse Review Crew Blog Cruise is "Exploring the Great Outdoors." (Read all the participants' submissions on October 9th)
Looking through my blog, via the search feature, won't bring up very many posts about being out-of-doors. We do like to get outside, though. Up until this point (2011 and 2012) we have lived in small towns that didn't have much in the way of 'outdoor' activities other than simply walking. And apparently I thought there had to be much more!
I'll be honest and say I've never been a fan of camping. And that is a great way to get outdoors.
In 2010, I started doing some research for switching up our homeschooling and dug deeper into Ambleside Online's free curriculum. Although not at the time, nature study has become one of my favorite bits of the curriculum. Charlotte Mason advocated being outside (Never be within doors when you can rightly be without.), that it is very important to the well-being of people, not just kids.
Since we've moved to Ohio, there has been much more opportunity for out-of-doors activities –like I thought I needed before. It's so beautiful where we live that we are always watchful, even when just in the car, of nature. Part of Charlotte Mason's educating children was the keeping of nature journals. We've also begun to keep one; each of my kids has one and I also do.
We visit the MetroPark system a lot of the time but also our backyard offers us plenty of opportunity to enjoy being outside. We often see deer, squirrels, geese, sometimes skunks, and other animals –and plants, too.
I thought it might be nice to share with others our entries so I created a page on my blog, titled Nature Journal, where I hope to continue to present our findings and fun while being outside. Sometimes it will just be my entries but I'm hoping my kiddos will allow me to share theirs as well. We still have ways to go before we get into the "Never be within doors when you can rightly be without" mentality –we enjoy the comfort of inside, perhaps a little too much –but we enjoy it much more often than we used to!
Do you spend a lot of time out-of-doors? What is your favorite outdoor pastime?