Science can be pretty awesome. It can be pretty amazing.
Unless you are my homeschooled kid.
Did I just say that out loud?! Ack! That I did. And it is true. I can't seem to help it. If it makes a mess, I don't want to do it; if it makes a lot of noise, I don't want to do it; if it makes a mess –oops said that already… Well, perhaps you've gathered that I'm not too big on experiments. Actually, I think it is *science* in general. If there was just one class I'd have my kids do outside of homeschooling, science would be it.
Enough about my faults. Through the TOS Homeschool Review Crew I was one of the chosen to review Amazing Science, Volume 1, from Science and Math.com And I am so very happy that I was one of the chosen. I love these DVDs!!
I think I might just like science experiments after all…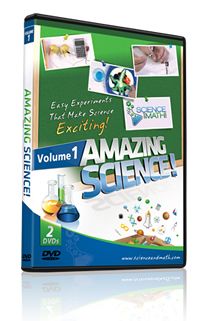 This set of 2 DVDs covers 23 different experiments. In those, you will learn, I mean your kids will learn *wink* about air pressure, electricity, heat, surface tension, magnetism, and much more. These experiments will make your jaw drop. No joke.
Here's the experiments on these DVDs:
Disk 1
Color Changing Milk
Egg in a Bottle
Exploring Air Pressure
Build a Lemon Battery
Inverted Cup of Water
Candle Suction Power
Amazing Magnetic Force
Lift an Ice Cube with String
Unburnable Money
Matchstick Speedboat
Cloud in a Bottle
Reversing an Image with Water
Disk 2
Floating Eggs
Keep Paper Dry Underwater
Dry Ice Bubbles
Balloon in a Candle Flame
Ocean in a Bottle
Build a Motor with Lights
Simple Lava Lamp
Invisible Ink
Density Tower
Soda Can Fizz
Build a Motor #2
We watched a few (probably at least 4) before we even attempted any of them. One of the things I really like about these is that the materials needed are easily acquired. You probably have quite a few already in your home or garage. And these can include all ages of the family (many do require adult supervision and/or assistance).
When the experiment starts, Jason Gibson, our 'tutor', gives a nice rundown of what is going to happen. He also makes sure to put safety first (always wear your safety glasses- just in case). The materials needed are right on the screen as he describes what is needed. The only thing I noticed in regards to the materials is that once or twice he uses something that is not on the list (such as the lemon battery; he uses a knife but it is not included on the list). After the experiment (which is covered by different camera angles, allowing us to view it from at least three different views), he explains what happened and why. I did notice that he repeats himself a few times while giving explanations but that's not necessarily a bad thing. We get the point.
The first we tried was the Color Changing Milk. I was so excited when we did it that I totally missed my photo op. But here is a quick collage of the experiments included in the DVDs (and if they look amazing- it's because they are!):
This volume of 2 DVDs is available for $19.95 at the time of this post. Or you can purchase them as a download for $17.95
ScienceAndMath.com also offers Chemistry, Physics, Basic Math, Algebra 1, Algebra 2, Advanced Algebra, Geometry/Trigonometry, and Calculus DVDs. Check out their Ultimate Science and Math Bundle!
Bottom line:
Amazing! The title of this is accurate. I love these DVDs and will recommend them to anyone who is looking for a way to make science more fun. The price is great (imho) and these can be done again and again. I will be watching anxiously for Volume 2 of Amazing Science!
Here is one video you can watch on the website (it's almost like it's magic!):
This gets multiple thumbs up from our family. Be sure to check out other reviews for this item by my Crewbies at the TOS Crew blog.
***Disclaimer: I received the above 2 DVD set from ScienceAndMath.com via the TOS Homeschool Review Crew for free in exchange for an honest review. No compensation was given. All opinions stated are my own or those of my family. I only recommend products that I truly feel will be beneficial to others based on my experiences. See
Disclosure/Policies
.***