I thought I would share how our day looks at North Laurel Home & School. I won't say that this is a typical day but I thought it would be fun to share anyway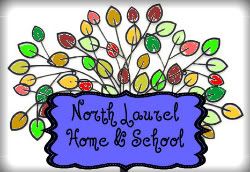 I wake up at 6:30 am each weekday morning (even Saturday!) and today was no different. Normally I make a pot of coffee first thing in the morning (right after feeding the cat and letting her loose from her 'dungeon') but there was leftover from yesterday. Day old coffee…? Doesn't generally bother me
When I opened the refrigerator to get the soy milk for my coffee (cutting back on the sugar/carbs which means no creamer and half-n-half is outrageously priced!), I saw the bowl of dried ingredients for making granola. I had mixed it up the night before along with the wet ingredients and kept them separate until this morning. I mixed up half of the dry and wet ingredients in a bowl then spread it on a cookie sheet to bake at 250*F for one hour.
I woke the kids up at 7:30 am. We listened to and sang along with our hymn. Today Lee had an orthodontist appointment at 11:20 am. Fortunately, the office isn't far away. We needed to get some school done and I'd hoped they would be diligent on getting to it. Want in one hand… *ahem* Fox did well with working on his assignments but Lee decided she needed a shower ASAP, which of course meant RIGHT THEN. To make sure that all would be ready when we needed to leave, I told her to hurry up and get it done. Sheesh…teenagers…she took almost an hour from start to finish!
By 9:00 am, Fox had completed math (today he read the first part of chapter 5 in Algebra the Easy Way [by the way, we are not finding it to be 'easy']), Bible (which included reading and his verse [, science, history and proceeded to get himself grounded for the day. It happens sometimes. I'm thanking God that it doesn't happen that often. I think I have really good kids.
Generally. Lee completed Bible, Mere Christianity, Greek and 30 minute reading.
About this time I put in the second half of the granola to be baked. The first batch I had let cool (along with the cookie sheet) and put in an empty oatmeal container. While Lee was working on her school, I took a shower. And since I do not have eyes throughout the house
I'm not entirely sure what the kids were up to then. Not school I can guarantee!
We left for the orthodontist around 10:45 am because traffic is unpredictable and nevermind the GPS says it will take 8 minutes to get there. While we were out and about we wanted to go to IHOP for lunch but I remembered (too late) that they closed the restaurants. We found the empty restaurant and were all sad
So instead I took us to Rally's! Yummy!! The last time I went there was in 2002 or 2003, and before that was when I was a kid. It was a treat
We got home about 1:30 pm. (I think… it seemed really late!)
When we left for the ortho in the morning, I had set the granola out to cool (the second batch) so I had to put it away when we came home. Now we have a full oatmeal container of yummy homemade granola. The granola this time isn't as nutritious as I usually make it because I had to improvise (didn't have all the ingredients) but it is still tasty!
The kids went back to school work. Fox read a few more subjects and narrated for most of them. Lee worked on history and 30 minute reading. We then together decided to do MIRL math, followed by Composer Study and Latin. By this time it was 4:30 pm! But that doesn't mean we spent 3 hours on all of those! When we were doing Composer Study it reminded Lee about her trumpet and Fox about his guitar. That was 30+ minutes of 'music'. I wanted to get a video but the screeching "Noooooo!" from Lee prevented me
They also stopped to have a snack sometime in there.
"Composer Study" was the funniest part of our day and going out to lunch was really nice. I spent less than $10 on all three of us and we were full.
Now it is 5:30 pm and I have to start dinner. We are having pork loin, uh, roast (?) for dinner with vegetables and bread-n-butter. The pork is already cooked (it was meant to have been dinner last night but didn't cook in the amount of time it said it would) and just needs reheated. Lee still has to do three more things but she is taking a break at the moment (she is washing dishes- of her own free will!- lol, some 'break' huh?). Two are reading and the other is math. She may have to set that aside until tomorrow.
Dh should be home within the hour (by 6:30 pm). The plan for the rest of the evening (after dinner) is probably me cleaning my bathroom and starting some laundry. Fox will probably work on creating creatures (something he and Lee have done for years) in his room. Lee may do the same after she does some more school.
At 8:15 pm I usually tell the kids good night and spend time with dh- just him and I. The kids go to bed at 9:15 pm and I am almost asleep by 9:45 pm.
And that is our day.